Black Rose Wars
is the result of more than 6 years of activity of Ludus Magnus Studio, is a very complex project and includes a large number of miniatures ad high-quality components.
The project was successfully funded by 8,364 backers worldwide, with an overfunding of the 2185%.
We would like to introduce you to the BRW Kickstarter Retailers' Pledge, a special offer for store owners and board game retailers.
RETAILERS' PLEDGE
The Retailers' Pledge includes all the SGs unlocked, so your pledge will contain:
100+ Miniatures
60+ Unique models (some like Crono are 148mm, All Evocations, Bronte, Oni etc. are 60mm)
50+ Tiles
600+ Cards
All the material will be contained in 3 boxes:
Core Game Box (190x295x295mm)
Crono Box Expansion (130x130x160mm) KS Exclusives
Sator Square Box with all SGs (190x295x295mm) KS Exclusives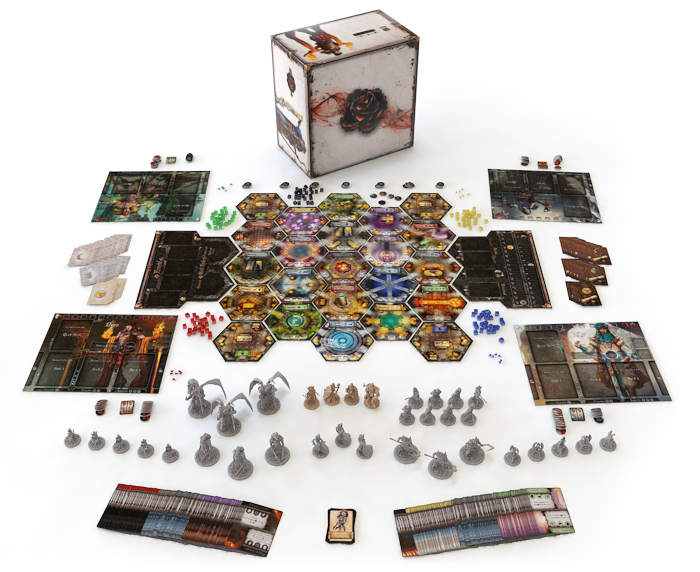 BRW Core Game (version without KS Exclusives)
Minimum order starts from 6 Pledges.
REQUISITES & FAQ
✔ WHO IS ELIGIBLE FOR THIS OFFER?
This offer is tailored for store owners and authorized board game retailers who decide to support our project. The retailer that will back Black Rose Wars, will receive the game as the single backers, as well as the SGs and KS Exclusives.
✔ SHIPPING
We ship at cost price all Retailers' orders to our international hubs, depending on the final destination. Our hubs are based in USA, Germany, China, Canada and Australia.
The shipping costs reported in the table are based in Europe, USA, and Canada. For a more accurate quote, please send us your shipping address with the desired quantity.
Your order will be delivered within June 2019 in one wave.
NOTE: if you desire to receive the Core game and Crono in January, we have to charge an additional fee during the Pledge Manager.
Based on experience, we will charge for postage and handling at the end of the Kickstarter
campaign, depending on the actual shipping costs. Shipping costs will be added during the Pledge
Manager. The main factors determining shipping costs are:
1. Country of destination
2. Number of boxes sent
3. Number of SGs unlocked during the campaign
4. Number of add-ons ordered
5. Carrier used for delivery
✔ PAYMENT
We accept payment by Paypal, Credit Card or Bank account.
______________________________________________________________________________
BLACK ROSE WARS TRAILER
Geek & Sundry BRW Review:
Jordan Pridgen, Mark David Christenson, and Pisha Warden join Becca Scott in a battle to become the Supreme Magister in Black Rose Wars by Ludus Magnus Studios.
--------------------------------------------------------------------------------------------------------
HOW TO SEND YOUR ORDER
When you're done, you can send an email with your license attached.
Object: "Black Rose Wars Retailer Pledge Order" to retailers@ludusmagnusstudio.com
You will receive soon a quote for your order.
--------------------------------------------------------------------------------------------------------